NerdBOT, the revolutionary Telegram Bot, has set the crypto world abuzz with its remarkable 5X returns, captivating early investors seeking to harness the power of on-chain analytics. With features like on-chain radar, real-time smart alerts, and built-in DEX trading, NerdBOT empowers traders with the insights and tools to thrive in the cryptocurrency market. Additionally, its $NERD token ecosystem, complete with revenue sharing and attractive discounts, provides an exclusive advantage for dedicated holders of the NerdBOT community
Empowering Traders with Comprehensive Features
NerdBot, a powerful tool for crypto enthusiasts, offers a user-friendly interface and an extensive feature set, allowing traders of all levels to navigate the complex cryptocurrency market with confidence. This listing on Bitget will open up a world of possibilities for traders by providing them with tools for real-time market data analysis, smart money tracking, comprehensive token information, and portfolio management.
NerdBot has already gained significant traction in the market, boasting an impressive user base of 33,544 active users. Additionally, the platform recently achieved a milestone of 50,000 daily transactions, highlighting its growing popularity among traders.
Rocket growth with multiple listings :
With the teams commitments towards growth and making it accessible to a global audience.  $NERD already got listed on
DEX – 
 UNISWAP
 CEX –
Gate.io
Bitget
MEXC
Guarantees stability and security for our community.
$NERD team locked 116.58 ETH and 1.17M NERD token Liquidity on Uniswap v2 for a year! to guarantee stability and security for the community.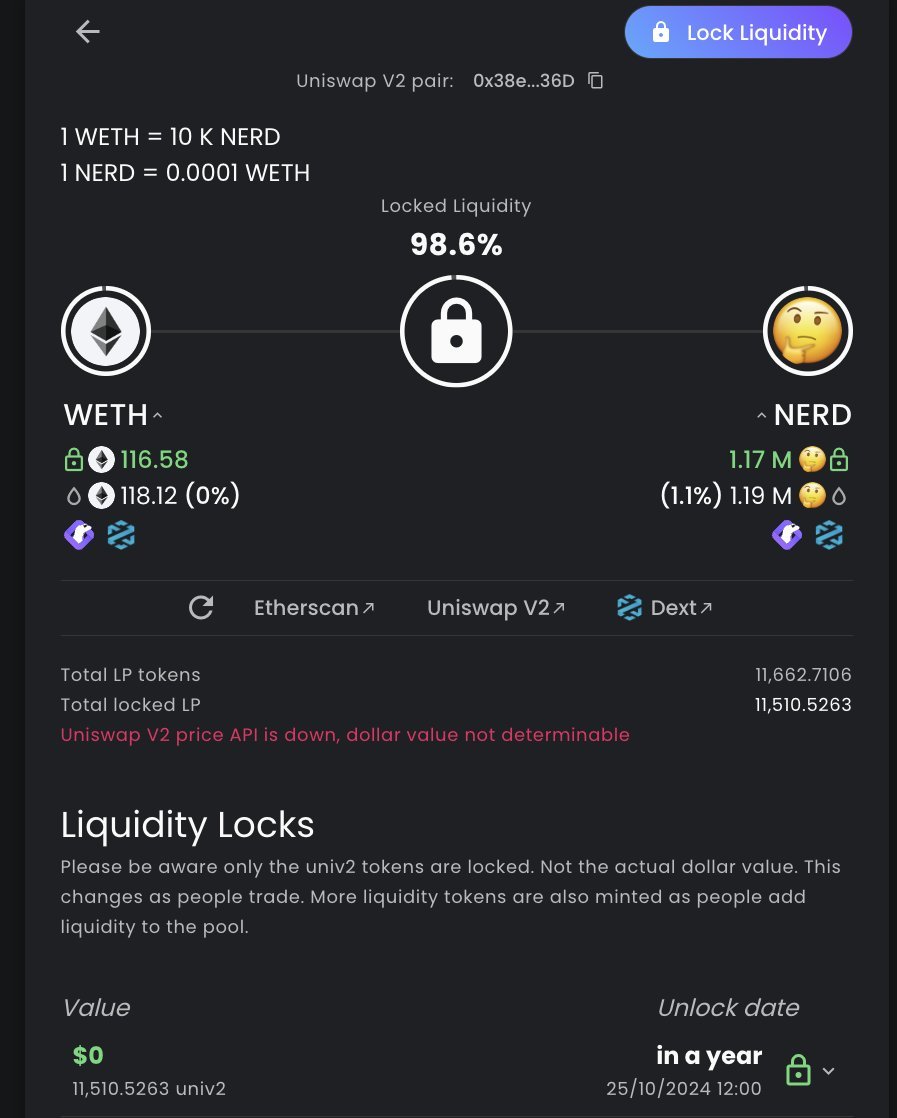 Unlocking the Power of NerdBot
Developed by The Data Nerd, a distinguished on-chain research and analytics firm, NerdBot aims to redefine how traders analyze tokens and make informed trading decisions. NerdBot is a connected analytics Telegram Bot that offers actionable insights and a seamless trading experience.
Key Features:
On-chain Radar: Get actionable insights with flexible timeframe data summaries.
Smart Alert: Receive real-time alerts of unusual market movements.
Wallet Analytics: Analyze your win rate, portfolio, and more.

Portfolio Management :

Users can manage entire portfolios in an efficient and customised way.
Exclusive Perks for $NERD Holders
Holders of at least 1,000 $NERD tokens gain exclusive benefits:
Revenue Sharing: Access 80% of revenue generated from trading fees and subscription fees, plus 50% of the tax from $NERD volume traded.
Fees Discount: Enjoy subscription benefits with a 20% discount for quarterly and 30% for yearly subscriptions. Get up to a 50% discount for Nerd Academy.
😎 Become a $NERD Holder and start receiving weekly revenue sharing!

By holding $NERD, you can enjoy the following benefits:

💰 80% of NerdBot Premium subscription fee
💸 80% of the Trading Fee
📊 50% of Tax Fee

Staking opens next Saturday, Nov 4th! Every current holder will… pic.twitter.com/VTPPxtfNgC

— NerdBot (@0xNerdBot) October 25, 2023